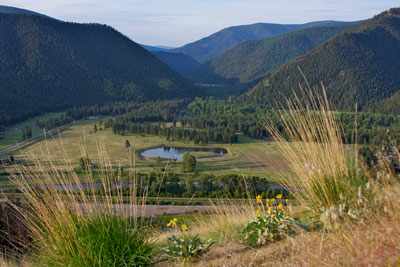 In the heart of one of the world's last intact ecosystems, and just minutes away from Missoula, the cold and clear waters of Montana's first blue ribbon trout fishery, Rock Creek, join the Clark Fork River. Here, open meadows and meandering rivers on the historic 300-acre Corra Ranch have served as a gateway to Rock Creek for over a century, welcoming visitors and residents to the renown valley that stretches south to the Pintler Wilderness and the Continental Divide.
In the mid 2000's a 36-unit subdivision was proposed for the site, which threatened to forever change the character of the valley and cut off public access to miles of rivers, streams, and adjoining National Forest. With financial help from a broad group of public and private partners, Five Valleys purchased the property in 2012 and began restoring the property and developing publicly accessible trails to the rivers and forests.
In order to prepare the land for a large subdivision, bulldozers and backhoes had dug up much of the open meadow and created a gravel berm that blocked the view looking toward the canyon. The disturbed areas soon sprouted weeds and discharged sediment into the Clark Fork River.
Since purchasing the property, Five Valleys has worked with many partners to restore it. Partnerships with Missoula College and the University of Montana have resulted in the removal of the berm and the creation of a revegetation plan. Five Valleys staff and volunteers planted grass seed and installed a temporary irrigation system. With help from the Montana Conservation Corps, Missoula Parks and Recreation and hundreds of volunteers, there is a now a public walking trail that extends from the parking area on the east side of the property to the river. In May 2013, Five Valleys acquired and added 2 ½ miles of Clark Fork River frontage to the Confluence property, including beautiful cottonwood galleries and the bed of the old Chicago, Milwaukee & St. Paul Railroad.
Today, the developed pond has been restored into a shallow groundwater wetland that can accommodate floodwaters from the Clark Fork River. Native seeds and plants are being reestablished throughout the meadow and along the streams. And the never ending fight agains weeds is underway. Thousands of visitors are enjoying trails along the rivers, abundant bird habitat, and outstanding fishing. Area school kids are using the property for natural history education, and the University of Montana continues to use the property as an outdoor classroom.
Over 500 acres are protected under conservation easement or Five Valleys' ownership. On the Confluence property, Five Valleys' volunteers have established a parking area and river access just east of the Rock Creek Road and it's now open to public use. We hope you'll drop by and enjoy the trials and ample room to roam, we also ask that you bring you be respectful of and courteous to our neighbors by respecting their privacy and property.
Project Partners Include: State of Montana, Missoula County, Westslope Chapter Trout Unlimited, Missoula College, University of Montana, Missoula County Weed District, Montana Fish and Wildlife Conservation Trust, Confederated Salish and Kootenai Tribes, Montana Natural History Center, City of Missoula Parks and Recreation, Five Valleys Audubon